This post is also available in: Russian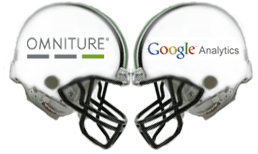 Many market experts, Web developers and site owners are constantly looking for optimal solutions for Web portal analytics to increase their conversions. There are many Web analysis products available in the market. They are either paid or free, focused at a particular aspect of Web analysis, offered as a service or a solution. When choosing Web analysis solutions, companies are often interested in what is available in paid analytics and what is worth the money. This is especially vital in the context of similar freeware, first of all, Google Analytics. Let's now discuss the benefits of paid analytics compared to its freeware competition.
First of all, to compare different solutions, we need to know what end results we need, particularly, what are the purposes of a given Web site. Web analytics provides the data to optimize online business, increase sales, and give users background for point-of-sale contact with customers. Interpreting of analytical data is configured by the website administrator. Omniture SiteCatalyst helps to prepare highly detailed information, present high-level graphics and help interpret them. This way, Omniture helps companies to achieve their ultimate goal of gaining insight into the user behavior and identifying optimization possibilities. On the contrary, interpreting Google Analytics data is, as a rule, difficult and allows you to identify general trends only.
For quality interpretation of Web analytics data, an expert administrator is needed. The vast majority of projects have quite rudimental administrative features. This often occurs due to lack of proper support during implementation and operation. Google Analytics provides support via forums and lots of materials on the Internet. Quite on the contrary, Omniture SiteCatalyst will provide you with a dedicated manager, live technical support, Web video lessons and tutorials discussing not just technical issues, but also end-to-end business optimization.
Omniture Site Catalyst Classifiers present a significant benefit of this product. Web analytics data can be greatly simplified by using qualifiers. Here are a couple of simple examples. Suppose you run multiple parallel marketing campaigns to promote your site. The customers attracted by such campaigns arrive to your site with campaign identifiers so you can track the campaign results. But if you want to obtain analytics on search engine traffic (Yandex, Google, etc.), on search keywords or promotion channel, Google Analytics is in no way helpful here. However Omniture SiteCatalyst can offer its benefits here. By adding classifiers you can see traffic from search engines initiated by various keywords. Another example: while promoting multiple products by different channels, you may need statistics by content categories. If you are promoting movies, music, games on different resources, but need separate statistics on content categories and promotion results, SiteCatalyst makes all this very easy. This way you can understand which costs pay off better.
Google Analytics is primarily focused at developing of its search advertising. So the analytical data can be used to calculate AdPlanner ratings (AdPlanner is a service to plan media campaigns on the Internet showing traffic from different portals). Google Analytics strategy posits a definite threat to privacy, as the number of visits to your site is often indicative of your marketing campaign efficiency! Omniture SiteCatalyst makes no preference among search engines and ensures data privacy.
Online business is not always focused at Web sales. On the contrary, business goals are more complex, as a rule. For example, it is often necessary to provide users with online information to engage them in dialogue or learn something new about them. In addition to sales, you also have to analyze arbitrary goals. For Google Analytics, you have to map such goals as Web page paths. In Omniture SiteCatalyst, goals are based on special user-defined events which can substantially simplify operations and improve data quality. This allows Omniture SiteCatalyst to generate custom goal-related reports and event chains.


The above path-based reports are also critical to understanding user behavior. Google Analytics offers several basic reports, while Omniture SiteCatalyst offers 22 customizable path reports giving you the whole picture. Now you can know where your users usually navigate away from your site, and what are the most profitable paths. All this can be extremely useful for optimizing your online business.
A serious downside of Google Analytics is the algorithm of calculating unique users. Omniture is more flexible in analyzing unique visitors, not just within a day, but also a week, month, quarter or year. In addition, you can track unique visitors by product and category, not just the whole site.
Many online resources, particularly video portals, have a lot of Flash elements. User interaction with these Flash elements is of the utmost importance. Google Analytics is much less capable of tracking Flash events as it needs calling JavaScript from Flash. Many portals prohibit such calls and hence valuable data is often lost. Omniture SiteCatalyst provides native ActionScript 3 analytical interface to keep track of all events including those that occur in embedded objects (embedded video players).
In addition, I would like to underscore much more advanced mobile analytics features. Ad-hoc reports on multimedia consumption make this system very useful without the need to integrate online TV portals. It can analyze which content and in which way the visitors consume, and which video segments are most popular. Also, you can understand what content recommendations result in the highest sales or advertising revenue so you can earn more on them.
An important feature is automatic reporting and alerts. Omniture SiteCatalyst can generate arbitrary reports in different formats by schedule. Also, you can flexibly set notification rules. For example, if view count falls sharply starting from a particular time, this means that the unit of content is likely to be defective and you should check the quality of a particular segment. Omniture SiteCatalyst can automatically notify administrator of this by email or SMS.
Omniture SiteCatalyst features real time reporting and Web Services API to integrate with third-party systems. This way you can implement very flexible strategies to optimize your online business. Real-time data will help you quickly respond to the results of critical online campaigns, edit them, and ultimately improve their results. You can use the Web Services API, for instance, to identify the most profitable content (videos, books) and related products. This allows you to use the real data to provide most accurate recommendations to increase profitability and ensure high-quality personalization. On the other hand, by integrating with external data sources you can substantially enrich your Web analytics.
To summarize, I would like to mention that certainly we have vested interest in covering the benefits of Omniture. Therefore, we welcome your comment and criticism. The efficiency of Web analytics is largely dependent on the way it is used rather than a particular tool used. Google Analytics is a very good product and and is a reasonable choice when there is no need in a dedicated resource for analysis and optimization of online business. But if online business is your critical activity or your company is large enough, it is better to avoid even minor omissions as they may lead to significant losses. In this context, the use of Omniture SiteCatalyst is reasonable and more cost-effective.
In our future articles, we will take a wider look at applying particular functionalities to optimize online business. Maybe this will help you earn more! At least we sincerely hope so!