This post is also available in: Russian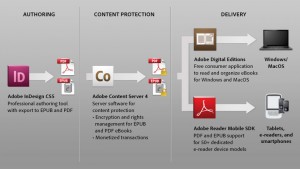 Google has recently announced its Google eBookstore, the largest e-books collection ever with over 3 million of items available for sale. Here I would like to discuss some technical aspects and benefits of the new Google's offer.
You would not find a mention of DRM, neither on the eBookstore Web site nor in its Wikipedia article. Quite on the reverse, Google is emphasizing that it imposes virtually no limitation on e-books, and they are readable on any devices. Meanwhile, Google's major competitors, such as Amazon and Barnes & Noble are known to set quite strict limitations for their readers. Content protection is not the least reason behind their developing and promoting of their own e-book reader devices.
Many people remember a story with Amazon withdrawing certain books overnight, without a prior notice. In view of the overall negative consumer attitude to DRM, Google is obviously trying to differentiate.
Nevertheless, the same day eBookstore was announced, Adobe published a press-release that it has licensed to Google its Adobe Content Server technology of content protection. So how does this fact correlate with the above? It's all too simple. The ACS technology can do its job almost transparently to users (of course, to the extend DRM can afford this). Let's outline ACS main features:
Support of popular open e-book formats PDF and ePUB, which are basic for virtually all e-book readers.
No retailer lock. The books protected by this technology can be purchased or lent from any point of sale. To protect the content, a single account is created for each book on the Adobe server.
Support of a variety of devices, including PCs, iPhones and iPads, and several multi-vendor e-book readers.
This decision is a very important Google's contribution to the global ecosystem of e-book distribution based on Adobe Content Server, which has already involved more than 200 publishers and retailers.