This post is also available in: Russian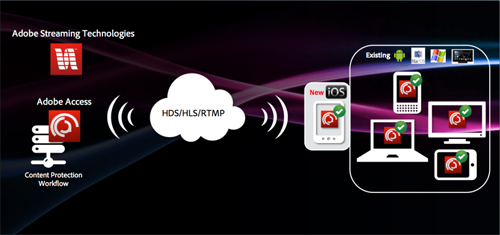 We are happy to report that, a new release has been published of the two main Adobe products that you need to build a professional Over The Top (OTT) service. Adobe Media Server Professional 5 is a media server required for pre-processing and delivery of content to a broad range of devices. Adobe Access 4 is a content protection server, now enhanced with support for iOS devices. This way, Adobe has solved the issues of cross-platform delivery of premium content to most of today's popular devices. In the next posts, we will provide guidelines on migrating and configuring of new releases. But for now, let's look at some of the technical features of the new products.
The main reason behind the release is support of DRM on iOS. Among other things, this is reflected in removing of the word Flash from the product name (it used to be Flash Media Server). Now the focus of the product line has shifted to the cross-platform support of premium video. Adobe Media Server 5 and Adobe Access 4 now allow us to meet the demands of major copyright holders relating to content protection on the iOS devices. In the context of immense popularity of iOS devices, they are a key channel of content distribution for many of today's OTT services.
It is worth noting that, DRM support in iOS has been implemented not only in AIR SDK (creating of iOS applications using Adobe AIR), but also in the publicly available Native iOS module which enables embedded playback of protected content from a Native iOS application.
Moreover, Adobe Media Server 5 supports on-the-fly packaging of content in HTTP LS / HTTP DS modes at the first user request (further, the packaged content is cached on the Edge servers or CDN). While delivering content to iOS devices, we often need to ensure failback to the audio-only stream (no video), in cases where the user Internet connection quality is very poor (AppStore's requirement). Adobe Media Server allows you to stream audio-only in the HTTP LS / HTTP DS modes.
Using of an independent media server (or group of servers) usually turns out to be more cost-efficient than CDN and third-party hosting offerings. In addition, this provides a nice opportunity to enable load distribution and creating of more sophisticated applications. This product also supports P2P features now, so you can create RTMFP based applications.
Wishing big traffic to your OTT services! 🙂