This post is also available in: Russian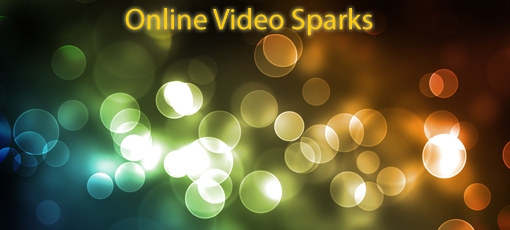 Online video projects are explosively growing worldwide. The viewers are increasingly using the Internet to access high-quality premium content. Online demand for premium content leads to the emergence of new online video projects. In this article, we will discuss two novel exciting portals launched within the last couple of months: Now.ru and Amazon Instant Video.
Both projects use a common business model, i.e. subscription based video content delivery. Subscription has also largely accounted for NetFlix success. This business model is preferred by users as it provides guaranteed access to a large library of video content at a relatively low cost. Frequent viewers tend to avoid one-off purchases to prevent excessive expenses. In the US, this business model has been proven successful by NetFlix. Moreover, this rapidly growing value proposition is also becoming highly competitive: Hulu Plus was launched some time ago (and, more recently, Jason Kilar's blog had announced his plans to attract 1 million subscribers in 2011). A few days ago, the WallMart Vudu project was pushed to PC screens, with the main message that Vudu is much better than Hulu.
Now.ru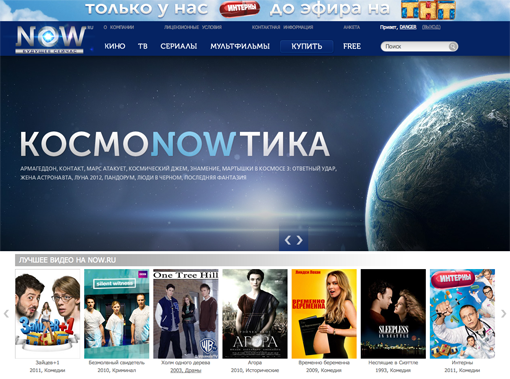 Now.ru is TNT's famous project created in the best traditions of NetFlix, but with a Russian flavor:
Exclusive content is available by subscription before it's on the air.
Free movies offered to attract users, some of them are quite good.
Some movies are only available to one-time purchase and viewing (i.e. they are not covered by subscription); this model is likely used for new movies.
A large subscribed collection of videos (although it could be bigger).
The project differentiates by a wide selection of exclusive TNT content, featuring such series and shows as Realnye Patsany (Real Guys) , Interny (Interns), Nasha Russia (Our Russia), Univer (Uni) and Zaitsev+1. In contrast to the widely adopted catch up model, Now.ru offers popular series before TV broadcast. This is indicative of strategic importance of Web projects for traditional media companies. Apparently we are witnessing a fundamental shift in the Internet and Media industries.
Now.ru has put considerable competitive pressure on current players like Omlet.ru (MTS), Zoomby and IVI. Finally, the competitive terrain includes traditional Internet projects (RuTube, IVI, TVZavr), media companies (TNT, STS) and telecom operators (MTS, Megafon). Each company has its own capacity to promote their projects, and its own strengths and weaknesses. Ultimately, the viewer always wins.
Amazon Instant Video
In the US, the battle for viewer audience has also involved the largest national retailers, primarily WallMart with its Vudu product. Such popular online retailer as Amazon has also kept pace to release Amazon Instant Video.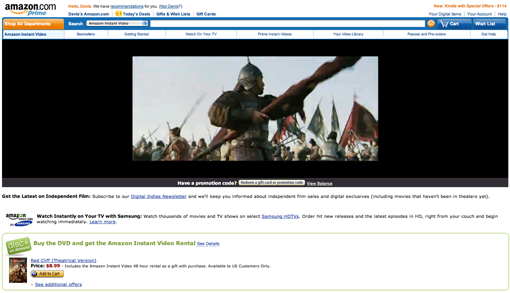 Amazon Instant Video is primarily a bonus to Amazon Prime subscription offering multiple benefits to Amazon users (for example, free delivery within two days). The choice of content is not very broad, although probably it's just the beginning. The Amazon customer base is very large and apparently Amazon is relying on the customer base to return its project and content investments. By broadening its video collection, this project can potentially give a good run to the main player, NetFlix, but now it can hardly be regarded a serious source of premium content.
Virtually all the players in the online video market are involved with content distribution across all kinds of new devices. The publishers are porting their video portals to provide ease of use with Internet TV, STB and mobile platforms. Developers offer new tools for creating cross-platform portals (especially Adobe), and advertisers gradually overcome their skepticism towards new advertising formats. In the near future, we will open our laboratory featuring a variety of devices and opportunities they open for the online video projects.
Wishing you exciting video views and impressions!