This post is also available in: Russian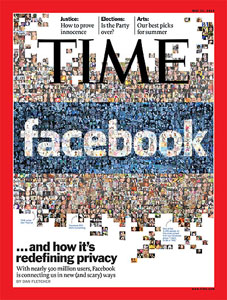 This article opens a new series of our publications dedicated to outstanding Web entrepreneurs. While you are reading, we would like you to answer some questions to understand how those people may have influenced your business. Well, it goes without saying that Mark Zuckerberg is a really outstanding personality. He's one of the youngest billionaires in the world and the CEO of a globally popular Web resource. No wonder that two books were written and one movie was shot about Facebook!
How is Facebook influencing your business, and how can you benefit from this?
Notwithstanding numerous rumors mentioning Julian Assange, Mark Zuckerberg was finally named Time's 2010 Person of the Year.
One of the latest Zuckerberg's interviews was aired at CBS 60 minutes show and is available on YouTube:
Part 1.
Part 2:
Bonus, Facebook Co-founder.
Initially, Facebook was not paying much attention to photos, but as its popularity grew, the functionality also improved. A similar situation applied to other multimedia formats, such as online video. This year Facebook launched many features: a new messaging system, new profile formats etc. The company is continuously innovating. I am sure that this year we'll see quite a lot of socially oriented products. As Mark (and not just he) says, social versions of services are pretty different from their traditional implementations.
How can social features improve your product or Web resource?
Have you, at least basically, integrated social services?
The world is facing growing tension around privacy issues. This has been widely discussed in many publications. Further Facebook's success depends upon how they manage to persuade users that they keep private data secure from third parties. Considering that most of Facebook content is private, we are eager to know how they are going to meet this challenge. Moreover, recently Facebook has admitted private data leakage through applications. It's likely that the Russian social network Odnoklassniki outright failed to do it properly.
Facebook has 200 million mobile users, and this will make, unequivocally, the essential part of its future. Web users are going mobile, and this must be taken into account by both Web based companies and Web units of traditional companies. Should Facebook be a country, it would be the third largest one in population.
What can you offer to mobile users? Do they need it?
Do you have an easy-to-use mobile version of your Web site?
The competition between Google and Facebook is becoming more and more evident. Although their products look quite different, actually they are major competitors. However the new Facebook messaging service may be a partial alternative to Gmail, the case is not this, but how users are finding information. As the amount of globally available information is constantly growing, finding relevant information becomes harder. Google is constantly improving its flagship Google Search product. Still, users are more likely to make decisions based on reviews and testimonials from people they know. How are we going to find information, products and services in the future? Are we going to search using standard search engines or social networks? Well, that's why social marketing is so popular today. Here is a video discussion of different search alternatives. Many resources report substantial growth of traffic from social sites, such as Facebook and Twitter.
Do you analyze how users find you?
Have you compared your traffic sources, i.e. how many users are referred by search engines, and how many — by social sites?
Are you promoting your products and services via social networks? Isn't it a high time to try?
Another important competitive aspect is attracting talents. In this struggle, Facebook and Google are raising salaries and offering complex and involving tasks. Who are those talents going to work for, which company will they lead to success? Here is Facebook's corporate culture: everyone is working in the same open space, including Mark. Everybody is in one big room.
How are you creating a unique atmosphere in your company?
How are you attracting talents?
Another recent interview (Time) with Mark.

Finally one more interesting interview with Mark at web 2.0 summit 2010.